What kind of gifts should you buy for Diwali?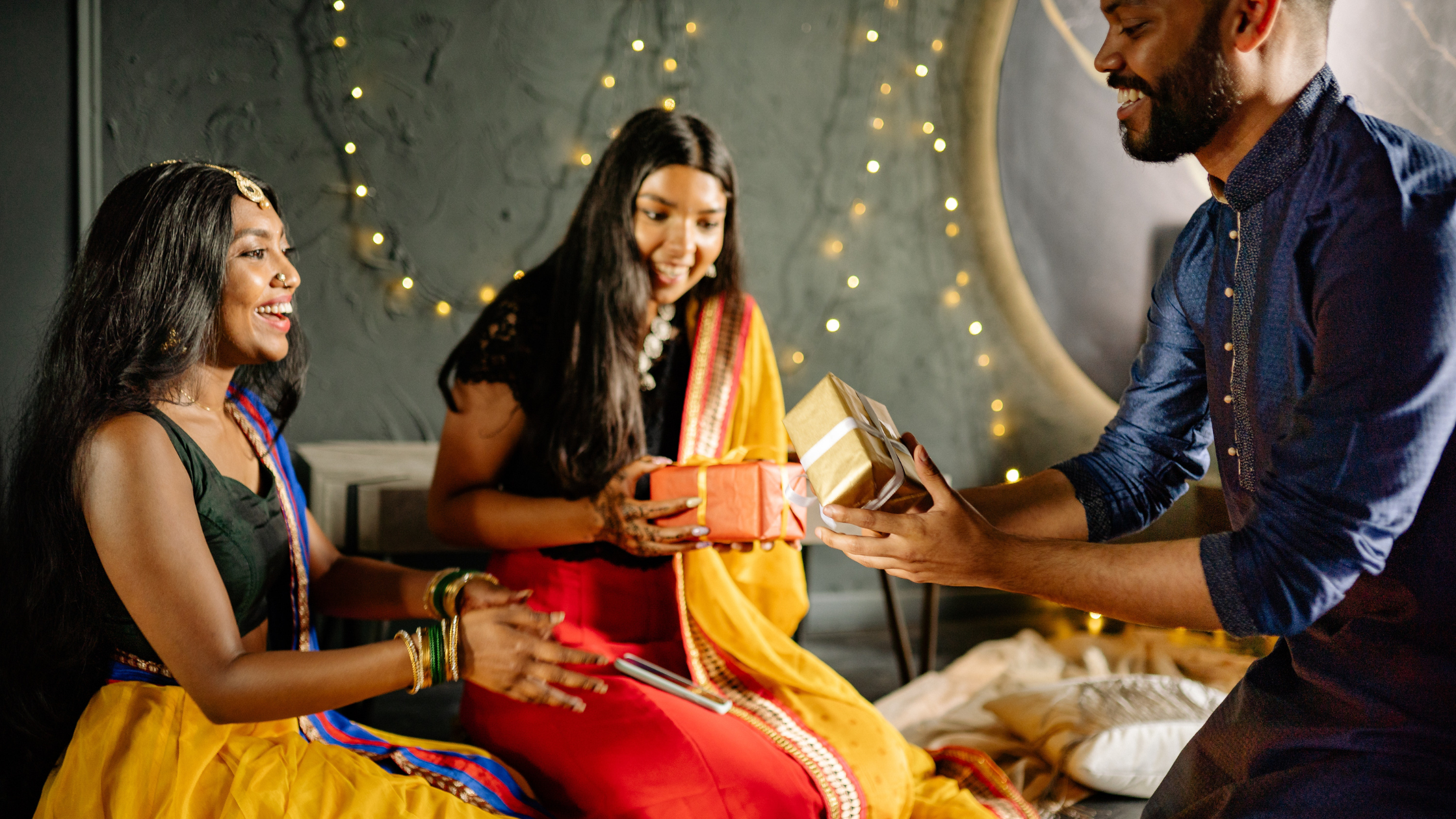 Diwali (or Divali) is the festival of light usually involving a sky full of fireworks, mouths full of sweets, a house full of diyas and a heart full of joy! Celebrated the world over by Hindus, Sikhs, Jains and also some Buddhists.
Usually lasting 5 days, between mid October and mid November, Diwali symbolises the spiritual "victory of light over darkness, good over evil, and knowledge over ignorance" Diwali is a moment to show pure gratitude. It's exists to illuminate every soul on the earth with the light of love and affection. What could be lovelier than that?
Celebrants will prepare for Diwali by cleaning, renovating, and decorating their homes and workplaces with oil lamps (diyas) and colorful art circle patterns (rangolis). During Diwali festivities, people wear their finest clothes, illuminate the interior and exterior of their homes with diyas and rangoli, perform worship ceremonies of Lakshmi (goddess of prosperity and wealth) light fireworks, and partake in family feasts, where sweets (mithai) and gifts are given to share success.
People celebrate Diwali in lots of different ways but generally gifts include:
These indulgent Indian recipe boxes include step-by-step instructions and all the ingredients needed that make it easy to impress loved ones and go on a culinary journey from the comfort of your own home! 
Given to symbolise the enjoyment of life, candles and lights are a traditional Diwali gift. With an aroma of spicy warm ginger rich with maple syrup, cinnamon and brown sugar, this stylish candle will set the scene for some serious celebration!
This custom lightbox is the perfect Diwali decoration to bring out year upon year. You can choose your wording up to 30 characters for the front of the light box and add lines. You can also choose whether to have a battery or plug operated light box. 
A pop of colour using beautiful dried flowers that last years make a lovely thoughtful and sustainable Diwali gift.
This notebook includes a message in your own handwriting on the front cover. A special keepsake that will be treasured but is also useful – now that's our kind of gift!
A tin of spices is a really lovely gift for Diwali. Every time you buy a spice tin, you are helping to ensure a schoolchild receives a nutritious meal in the UK and India.
Sweets are a must during the festival of light, this collection of fudge includes clotted cream, buttered brazil nuts, ginger and sea salted caramel flavours made in the UK. They're so delicious they even won a Great Taste Award!
Jewellery makes for another lovely gift during Diwali, we really struggled to pick a favourite but these blue stone earrings with gold leaf detail really are a delight for special occasions.
Add to your your Diwali decorations with these lovely floral letters, our merchant can include any flowers in any colours, you could have your family name, Happy Diwali or perhaps the initials of everyone in your household.
 Rather than a greetings card, why not send a friend a year of dates? A whole year of activities to enjoy together (1 a month) that'll take you right up to next Diwali!
We've designed an entire gift collection for Diwali here but if you'd like something bespoke or need some more ideas, chat to one of our Gift Finders, they'll be delighted to help you make this the best Diwali ever.
Corporate Diwali gifts
It can be tricky to find lovely corporate presents in the true spirit of Diwali. Take the time to understand what will make a good gift for your people. If you're buying for a lot of people, perhaps a gift that can be enjoyed by many, such as sweets or biscuits with bright decoration.
If you've got a bigger budget or are buying for fewer people perhaps you could buy each person something special to them. Of course you could make things easier on yourself by talking to one of our gift finders, they can source the perfect Diwali gifts for you from one of our independent merchants.
Wishing you all a happy and joyous Diwali!
---
1 comment
---
---