100+ really lovely corporate gifts under £50!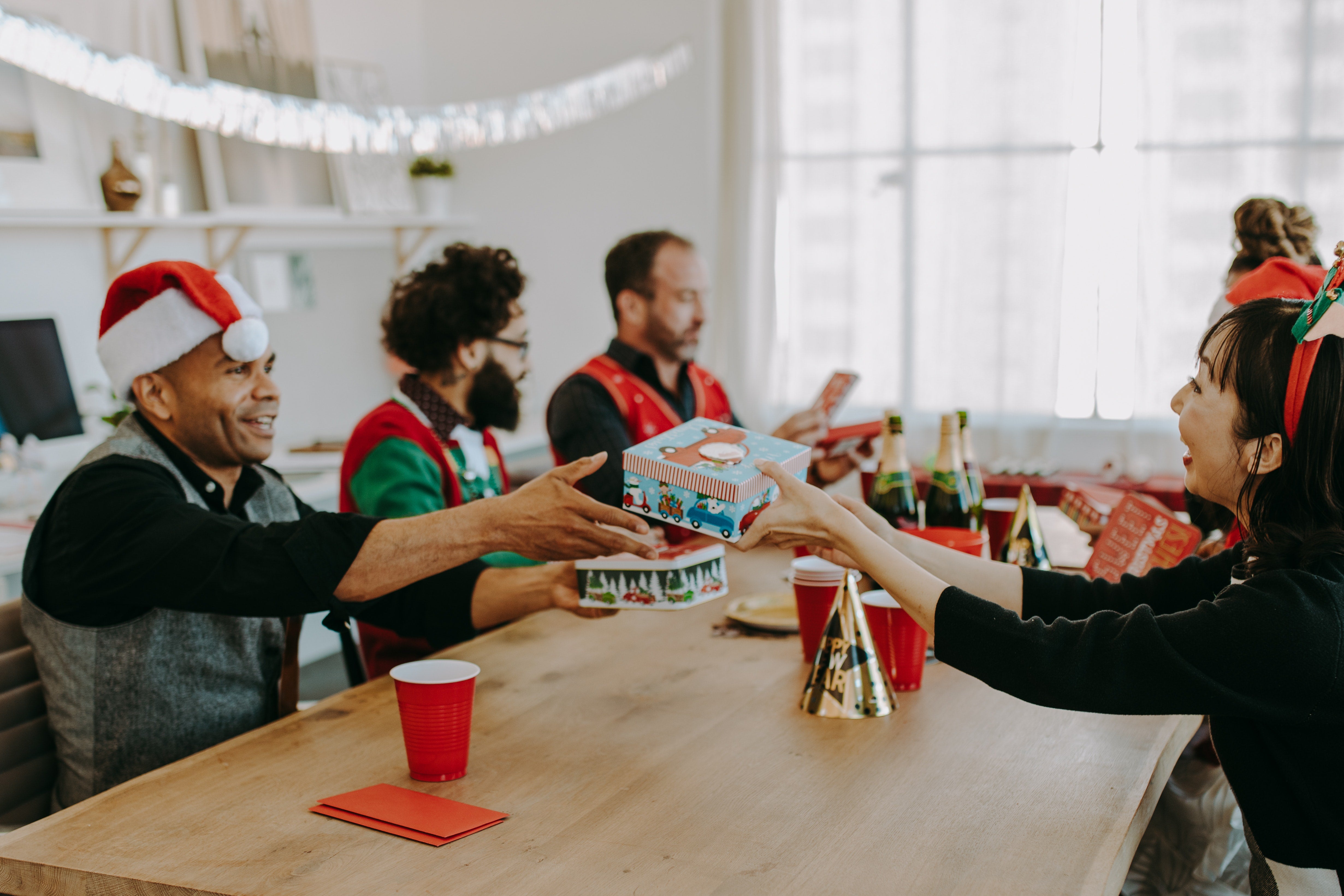 It's that time already when you need to start thinking about end of year… dare I even say Christmas gifts. But you've got a budget of £50 (or maybe less) per head and the only brief you've been given is "not another gift card".
It's all good, we've solved all of your problems with this brilliant – and quite massive - corporate gift guide.
If you want to find lovely gifts for your colleagues, staff, clients, suppliers or even your loved ones – with a max budget of £50 read on…
OR, if you're stretched for time, chat to one of our Gift Finders – they'll do all the heavy lifting (or heavy gifting) for you.
FOR THE HUNGRY: 
Chomping away at their third bar of chocolate by 11am claiming it was a "snackcident" but we know the truth, it was no accident – they just LOVE FOOD! Treat them to some sweet and savoury gifts this Christmas:
 Remote and homeworkers will love these letterbox hampers including:
Whether they like beer snacks or afternoon tea, we have corporate gift ideas for every taste.  
Our gluten free colleagues and clients don't have to miss out, we've got lots of GF gifts like these:
Need corporate gift ideas for vegan colleagues? Here are some of our favourites:
You can even get tasty christmas gifts for the whole department including:
This Christmas Extravaganza Hamper is a teensy bit above budget at £1,330 but the entire office will absolutely love it! 
FOR THE THIRSTY: 
Forever with glasses and mugs on their desk, here are some great gifts for thirsty workers.
If they're fans of soft and hot drinks then they'll love these gifts:
If you know for sure that your team members or clients love a little tipple then here are some of our favourite alcoholic gifts:
FOR THE ADVENTUROUS: 
Do you have a colleague or client that's always getting up to something exciting at the weekend? Or perhaps they wish they did more but don't quite get round to it? Well we have a whole lot of adventures just waiting to go! You could even book them as a team building day out.
 We also have lots of virtual classes that can be enjoyed at home. Chat to a gift finder for more info! 
FOR THE TECHIES: 
For those who love the digital world whether that's gadgets and gizmo's or TV and film, we have a gift for the all the tech lovers! We even have digital artists who can design posters and portraits for your people. Find out more by chatting to a Gift Finder. 
FOR THE RELAXERS: 
Are your team in need of some time just for them? Encourage them to unwind with these really relaxing presents.
FOR THE CRAFTERS: 
We've got some crafty folk here at needi HQ I can tell you! If you love to encourage an artistic flair then these sets will be absolutely perfect. You could even buy some sets for a team meeting to get the creative juices flowing.
FOR THE HOMIES: 
 Some people just LOVE to be at home (I know because I do). In fact, they might even work from home! Treat them to something fancy for their castle - an exspecially thoughtful gift if your client or team member has recently moved house. 
Take a look at our full homewares collection here (feel free to treat yourself to something - you deserve it!) 
FOR THE SHARP DRESSERS: 
There's always at least one person in the organisation who ALWAYS looks absolutely pristine. Like they just stepped out of Vogue magazine.  These are the gifts they needi this Christmas…
And I know this is over budget but it's too amazing not to include, this Handmade Bespoke Shoes Experience is not one to miss. 
FOR THE FAMILY
Gifts that encourage family time show that not only are you a thoughtful boss, you actually care about their needs outside of work. Here are some cracking gifts the entire clan can enjoy.
Oh and we can't forget
pet
parents too, or perhaps you even have an office pet!
FOR THE SELF CARERS: 
We could all do with a little more focus on our mental wellbeing, In fact, you could incorporate these gifts into your corporate wellness strategy.
If none of those are really doing it for you, or you would like something incredibly bespoke, chat to one of our corporate gift finders. They love a challenge!
We have a great relationship with our marvellous merchants. If you see a gift you like but would like it personalised, altered or you'd like to discuss ordering in bulk just let us know. You can even add a video or voice note with your gift at no added cost. 
Are you in charge of finding and ordering the corporate gifts for your business? Book in a chat with Steph and you'll receive a free gift! 
---