Celebrating International Men's Day: Meet Our Awesome Merchants!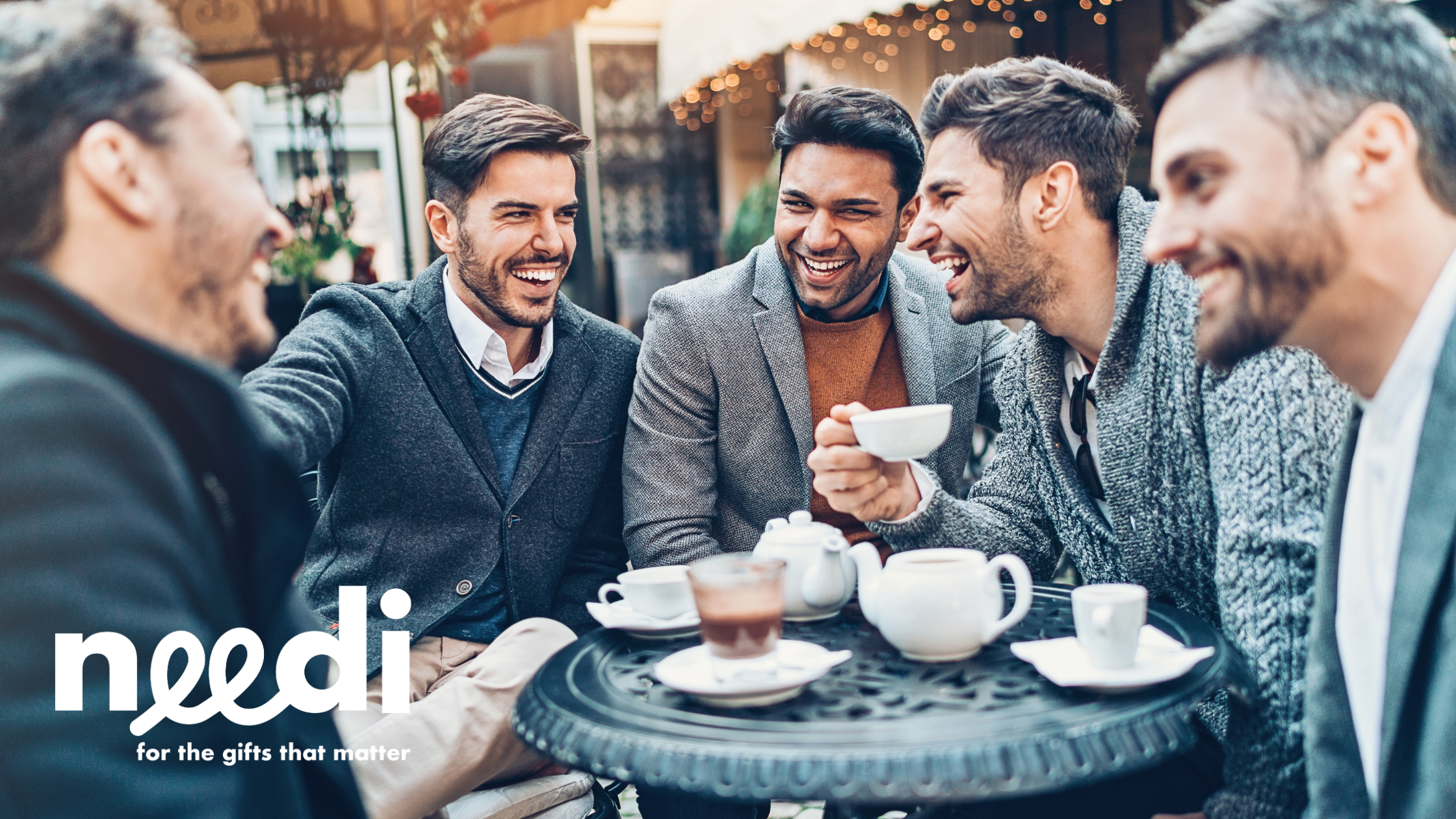 International Men's Day is just a few days away on Sunday, the 19th of November. It's a global celebration that spotlights men's incredible contributions and achievements while addressing significant issues like men's health, well-being, and gender equality. 
In preparation for this year's International Men's Day, we've had the privilege of getting to know just a few of the remarkable men who help make needi the incredible platform it is. Their stories and favourite festive gift picks testify to the rich tapestry of talent and character that makes up our extended needi family. 
Peter Briggs, Creator and Owner of The Solid Cologne Project
I'm Peter Briggs, the creator and owner behind
The Solid Cologne Project
—a sustainable and modern approach to personal fragrance nestled in the scenic Scottish seaside town of Stonehaven, Aberdeenshire.
The Solid Cologne Project is celebrating its 5th year in business, and the journey has been truly remarkable. Our mission was clear: create a high-quality product at an affordable price, providing the modern customer a natural alternative to the high street giants. Despite minimal advertising, our growth has been rapid and steady, fueled by word of mouth, a robust social media presence, and adventurous customers eager to support a small business.
Customer feedback means the world to us! We read every piece, and the overwhelming response regarding our products' positive impact on everyday fragrance routines is deeply appreciated. Through our incredible feedback, we've had the opportunity to collaborate with some fantastic businesses across the UK who share our vision. High quality, affordability, uniqueness, plastic-free and sustainable packaging—these values align, and we're thrilled that needi recognises this synergy.
Now, when it comes to favourite products, 'Harris' steals the show. It was our pioneering prototype, a top seller, and a personal favourite. It also makes a great Christmas gift, along with Viking. Or for the ladies, Rosewood and a Forager are a winner. 
Gift Idea: Solid Cologne For Him
Reece Hunt, Founder of Dèlicieux Chocolat
I'm Reece Hunt, a trained Pastry Chef/Chocolatier and the founder of Dèlicieux Chocolat, an award-winning handmade chocolate business based in West Yorkshire. We take pride in showcasing some of the finest origin chocolates from around the world.
My journey into the chocolate world started through a career as a pastry chef, venturing into Innovation and Product Development for the UK's leading bakeries and supermarkets. This exposed me to the dynamic market of understanding consumer demands and preferences. Recognising a desire for a luxury chocolate brand celebrating distinct cocoa beans, Dèlicieux Chocolat was founded in August 2021. We aim to make this indulgent experience accessible and affordable, catering to all dietary needs.
Customer feedback is immensely valuable to us. Fortunately, our products seem to hit the sweet spot—after all, who doesn't love chocolate? We're always open to suggestions, especially for our Bar of the Month subscription!
Being part of needi has been an incredible journey. Crafting monthly chocolate hampers for a customer to celebrate employee birthdays has been a highlight. It's a fantastic gesture, and we take joy in contributing to these special occasions with the gift of chocolate. Such a thoughtful initiative!
Among our fantastic products, I recommend trying our 67% Madagascan Dark Drinking Chocolate—my favourite. It stands out in our collection with fruity notes and a perfectly balanced cocoa flavour. Perfect for indulging in something rich and comforting, especially during this time of year.
For Christmas, my top pick is our £20 hamper! It includes a 1x 100g bag of Drinking Chocolate, a 20cl bottle of Bottega Prosecco, and two delicious 20g chocolate bars. The best part? Shipping is covered anywhere in the UK at no extra cost. It's a delightful and hassle-free way to spread some holiday cheer!
Gift Idea: Chocolate & Prosecco Hamper
Dan Incropera, Director of Sales for Craftmix
I'm Dan Incropera, Director of Sales for Craftmix, your go-to source for all-natural, pocket-sized cocktail mixers! I hail from just outside of beautiful Boston, Massachusetts, USA, but I'm proud to say I'm a New Hampshire native. My heart beats for sports, especially baseball, basketball, and hockey. I have never visited the UK, but it is on my bucket list, mainly because it's where my favourite people at needi reside!
My journey with Craftmix kicked off as an unpaid intern two years ago. Fast forward, and I've proudly taken the reins as the Director of Sales. Craftmix started almost three years ago with a mission: to craft a cocktail mix that's easy to enjoy, healthy, and, most importantly, tastes delicious thanks to natural fruit ingredients.
We're fortunate that our customers adore our products. We're talking a whopping 99.9% satisfaction rate, and our repeat customer rates are through the roof. And here's the unique aspect: needi is our top UK partner - chatting with the needi team gives me a tremendous sense of overseas love and community. 
If I had to pick just one Craftmix product to drink forever, our Skinny Margarita takes the crown. It's a zero-calorie, zero-carb wonder that doesn't skimp on that classic Margarita taste. We usually keep things light with just 25 calories per serving, but there's something fantastic about knowing you're sipping on 0 calories! 
As for my festive favourite and perfect gift idea, our Espresso Martini has to win. With a hearty 30 mg of caffeine in every serving, it's the ideal companion to tackle the holiday season's hustle and bustle with style! 
Gift Idea: Variety 24 Pack
Patrick Morton, Owner of Vespucci Adventures
I'm Patrick Morton, the proud owner of Vespucci Adventures, residing on a farm near Winchester in the South Downs.
Vespucci Adventures has been thriving for approximately 18 months. Our mission has always been to inspire people to embrace the great outdoors and relish the breathtaking nature on their doorstep, all while…hopefully, feeling better for it.
We love to receive feedback from our customers, and it's a common sentiment that many folks were unaware of the incredible countryside gems so close to home. It's enriching to help them uncover these hidden treasures and witness the joy they derive from connecting with nature.
Among our adventures, 'The Lost World' holds a special place in my heart. It's an epic journey through one of the most stunning parts of the country—the Jurassic Coast. This walk offers breathtaking views and the chance for a refreshing sea swim. And to cap it off, there's an iconic pub serving great beers with a splendid view and an irresistible jerk chicken BBQ shack in the garden.
Looking ahead to Christmas, we're thrilled to unveil brand-new gift boxes. These curated collections feature four epic walks, elegantly wrapped in tissue paper and presented in a stunning gift box, complete with a personalised card. What could be better than the gift of inspiring walks and fresh air to combat that post-Christmas fatigue?
Gift Idea: Vespucci's Self guided Hiking Maps - Surrey and Kent
As you can see here at needi, we're incredibly fortunate to have many remarkable men as part of our extended family, and as we celebrate their contributions and the positive impact they bring to both our platform and the world, we're reminded of the incredible diversity and strength of the men who stand beside us every day - Happy International Men's Day!
---
1 comment
---
---