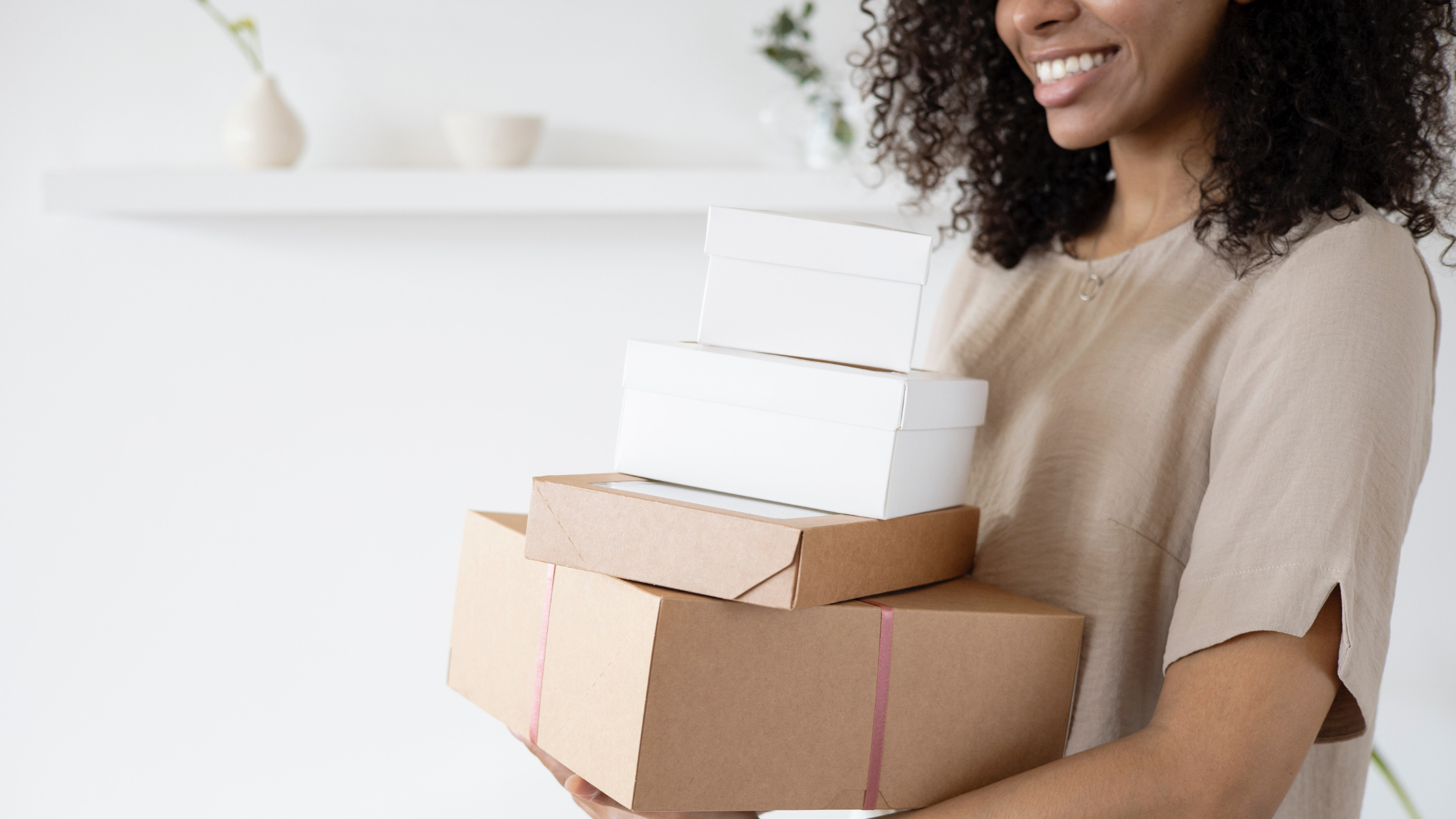 Make a note on your calendar – 3rd October is Buy British Day! A day to celebrate and support the amazing makers and creators across Britain by purchasing goods from local businesses.
It's really easy to get involved – our Merchants are all based in the UK. So whether you spend £1 or £1000 at needi, you know your money is going back into the economy.
British on a budget
If you want to show your support for Buy British Day with a small budget, here are some lovely gift ideas from our independent merchants that cost less than £5:
Chocolate Bar | £1.25
Who doesn't love chocolate? These little bars are such a treat, made in West Yorkshire and as well as milk, white and dark chocolate they have ruby chocolate and plant based options too. Yum.
You Are My Sunshine Greeting Card | £3.50
A beautiful greetings card of an original watercolour illustration; 'You Are My Sunshine' with a white envelope included. This card comes packaged in a biodegradable and compostable sleeve for protection. This card is a great one to send 'just because'.
Personalised Wooden Honey Dipper, drizzler, spoon | £3.75
This dipper is the perfect way to serve honey. It sticks to the moulded end as you lift it out of the pot and then dribbles deliciously onto your plate. The long handle can be personalised with a message of your choice - we love "Honey Bee Mine" and "Sweeter Than Honey"!
A handcrafted, natural turmeric lip balm created to help restore your lips original colour. With the weather changing this is the perfect balm to pop in your pocket.
Hello Sunshine Letterbox Sticker | £3.75
Let your Postie know you are thankful for their hard work with this super cute letterbox decal.
Reading "Thank You Postie" in a hand lettered style, this sticker works on any smooth surface such as mirrors, walls or glass, comes with application instructions and available in black or white.
Looking to spend some serious sterling? Right this way…
This perfectly packaged box featuring everything you need for a thoroughly fabulous British teatime treat. This set is a British classic containing:
Prince & Sons English Breakfast Tea.
Cartwright & Butler Chocolate Wafer Rounds, these exquisite biscuits melt in the mouth for a dreamy taste experience!
Cartwright & Butler Rhubarb and Custard sweeties packed in an atmospheric jar have the perfect balance of sweetness with a just a hint of sharp.
Rosebud Preserves Chutney – British made of course (smear it on a yummy crumpet or serve it with cheese and biscuits)!
Hot Chocolate using the Cocoba Hot Chocolate Spoon complete with delicate, fluffy mini-marshmallows.
Buttermilk Caramel Sea Salt Fudge.
Couples stay in the Yorkshire Dales | From £220
Book a relaxing stay at Goats & Oats at Garsdale, a homely vegan bed and breakfast, set in the stunning Yorkshire Dales National Park. We've been here and it truly is a wonderful British holiday filled with country walks and delicious food – there's even a pub next door! They have stays suitable for couples, families and even pets. 
Included in price:
Glass of Prosecco on arrival
Choice from a comprehensive vegan breakfast menu
Guest room courtesy tray that includes tea, coffee, plant based milk and homemade treats
Shampoo, conditioner and shower gel provided in your en-suite
Room service and clean towels daily
High speed WiFi
This deal is exclusive to needi and subject to availability.
For every product purchased with this amazing merchant £1 will be donated to the Make a Wish Foundation.
British Charcuterie Letter Box Hamper | £29.95
British Charcuterie Letter Box Hamper includes the very finest cured meats, sourced from across the UK.
The letter box gift hamper contains:
Deli Farm Charcuterie's award winning Fiocco smoked ham, traditionally dry cured in a blend of salts, herbs and spices, smoked with apple wood before being slowly air dried.
Real Cure Aberdeen Angus Bresaola, made in Dorset with long aged quality beef, crushed bay leaves, red wine and rosemary.
Serious Pig Snacking Salami - prepared from the finest British pork, chilli and smoked paprika, delivering a sharp piquancy and a deep, rich flavour.
Smoked snacking almonds.
Ollie's Olives - Green Halkidiki Olives dressed in a mouth-watering concoction of rosemary, garlic red chilli and extra virgin olive oil.
Love Snacks Chilli & Lime roasted cashews.
Afternoon Tea Hamper - with British grown Tea | £29.95
Enjoy an afternoon tea treat in the comfort of your own home – or perhaps a friends! This convenient letter box hamper makes it easy to share and includes:
Tregothnan Estate Afternoon tea handpicked on the Tregothnan Estate in Cornwall and blended with Darjeeling leaves, known as the champagne of teas.
Tregothnan Estate Classic tea, blended with finest Assam, to make a British grown tea with a bold and full-bodied flavour. From the Tregothnan Estate in Cornwall.
Boddingtons Berries beautifully fresh raspberry jam, made with British grown raspberries to a traditional recipe where only sugar is added. 50ml glass jar.
Shortbread House of Edinburgh Original shortbread, handmade in Edinburgh using a traditional Scottish recipe, with a delicious buttery flavour and a light crisp texture. Twin pack.
Edinburgh's Coco Chocolatier Organic Dark chocolate, made with delicious Earl Grey tea and Bergamot oil.
Best of British Letter Box Hamper - with Gin | £32.95
Beautifully wrapped in traditional parcel paper, with twine and ink stamps, the Best of British Hamper includes our selection of the best produce from across the whole of the British Isles, including a 50ml glass bottle of Plymouth Original Gin.
Plymouth Original Gin, created at England's oldest working distillery from a blend of seven secret botanicals, pure grain alcohol and soft Dartmoor water. 50ml glass bottle.
Cracking Nuts, deliciously hand roasted Cashews, Almonds and Peanuts, with vanilla, sugar and fair-trade Himalayan sea salt. 50g.
Coco Chocolatier's salted caramel milk chocolate bar, using sea salt gathered in the pure waters around the Isle of Skye in Scotland.
Coco Chocolatier's 62% single origin dark Ivory Coast chocolate bar, vegan and palm oil-free. Fair trade.
Boddingtons Berries beautifully fresh raspberry jam, made with British grown raspberries to a traditional recipe where only sugar is added. 50ml glass jar.
Tregothnan Estate Afternoon tea, hand picked on the Tregothnan estate in Cornwall and blended with Darjeeling leaves, known as the champagne of teas. Five sachets.
The Famous Moore's Biscuiteers Lemon and Stem Ginger biscuit rounds, baked with the same recipe since the 1860s and topped with sugar.
Of course you don't have to wait until Buy British Day to spend your hard earned money with local businesses. Every gift you buy at needi comes from an independent business in the UK!
---