20+ Christmas Gifts you can make yourself. Yes really!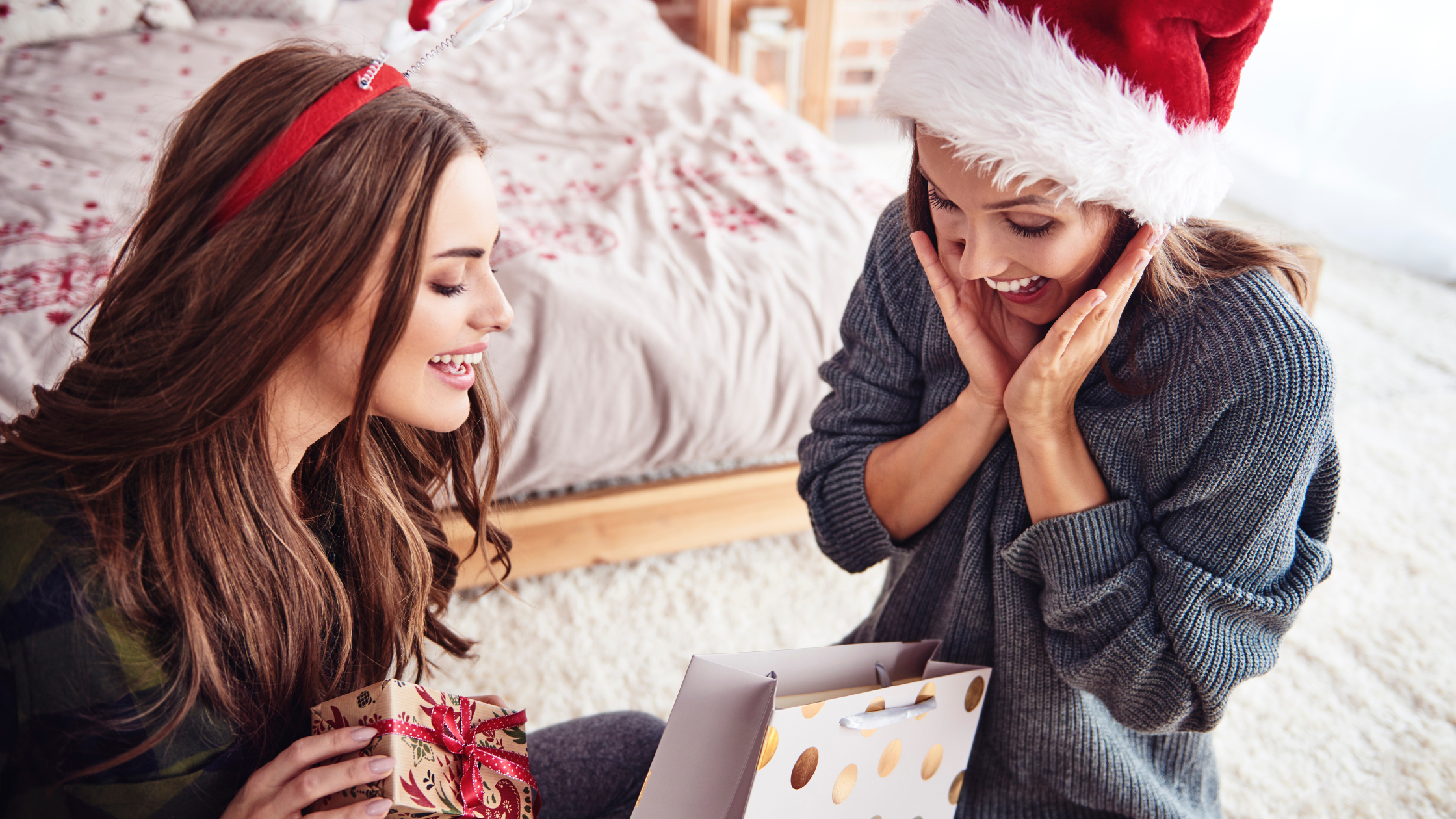 We love a crafty Christmas, it's a brilliant way to add your own personality to the gifts you give and make your loved ones feel like you really went the extra mile.
Not only do self made Christmas presents bring extra joy to you as the gift giver, it gives you some 'you time' as well as a great sense of achievement. Plus, it'll mean the world to your giftee when they unwrap a present that's totally unique and handmade by you.
That said, trying to come up with your own ideas for self made Christmas gifts can sometimes be really challenging. What will you make? How will you make it? Well, needi have the answers…


1. Ceramic Mug Painting Kit

Transform a plain ceramic cup into a colourful customised mug to brighten up someone's day every time they pop the kettle on! A fun craft kit for all ages which makes this a great gift from grandchild to grandparent.
The high quality ceramic paints will air dry within an hour, meaning they can be ready for enjoying that brew in no time at all!
2. Thread Journal Complete Course & Kit
This embroidery kit has all the supplies that you need to start your very own hand embroidered thread journal.
The Thread Journal course comes with lots of detail, pictures and instructions for every step of the way and is ideal for any experience level, including beginners.
This is a lovely gift to give to the most sentimental people in your life.

3. Plant Lovers Propagation Set + Gift Box & Card

Perfect for germinating seeds, propagating cuttings or adding soil to turn it into an indoor feature plant pot.
This kit comes with glass vases, bamboo plant labels and a propagation guide so you can start them off with a new plant for their home or office.

4. Terrarium Design School for Two E-voucher
This could be a quadruple whammy gift! You can take a friend with you to learn how to design, plant and sustain a divine terrarium with wonderful Kokedama teacher Alyson.
You'll leave having made your very own miniature, low-maintenance and on-trend biosphere. At the end of the class, you'll leave merrily clutching your own unique works of art to give to a loved one (if you can bear to part with them!)

5. Crochet for Beginners Kit

This easy peasy crochet pot kit for beginners will make such a sweet gift, especially if you pop a little plant inside. Learn how to make cute little storage baskets or plant hangers using 5mm Bobbiny 100% recycled cotton cord.
Fancy making one for yourself and a friend? Choose the crochet basket duo kit instead!
6. Easy Art kits
Created by artists, made for adults - these painting kits make it really easy to create a work of art for your favourite people. With lots of styles to choose from including Peace Lillies, Citrus Plants, Onsen and more, there's no doubt you'll find the style to match your loved ones taste.

7. Full Day Tufting Workshop

Spend the day using loop & cut pile electric tufting guns, to make a small rug. Depending on design details, these rug sizes can range from 60x70cm up to 70x90cm. Using a projector you'll be able to create the design of your choice – truly a gift that will delight that special someone for years to come.

8. Bake them some treats

Baking made easy! Handmade baking ingredient mixes so that you can make your favourite bakes at home including chocolate chip cookies, vegan brownies and chocolate orange brownies.
You could buy some nice jars (we love these ones) to pop the treats in, wrap them with tissue paper and it'll make a stunning and tasty Christmas treat.

9. Ceramic Decoration Personalisation Kit

Get creative and personalise a unique trio of hanging ceramic decorations to give to your favourite people this Christmas.
Each kit contains three 2D ceramic star decorations complete with red ribbons, a trio of festive coloured ceramic paints, a paintbrush, along with inspiration and design guide.
All you'll need to provide is a cup of water, mixing pots and some kitchen roll.

10. Friendship Bracelet Kit
A great gift if you have lots of friends to buy for! Each friendship bracelet making kit contains enough cotton to make around 12-15 bracelets in lots of fun colours.
You could even make an evening of it by inviting your friends over to make gifts for each other – pop a Christmas film on and enjoy some crafting time together.

11. Baby Mobile Kit

Use vegan felt and stuffing made from recycled bottles to create a colourful weather inspired mobile from scratch with this adorable DIY kit.
This is a lovely thoughtful present for baby's first Christmas or as a gift for an expectant couple.

Suitable for those with or without crafting experience, this activity involves some simple hand sewing and you'll have instructions for every step.

12. Tote-ally Crafty Bag Decorating Kit

Decorate and personalise a cotton tote bag for your loved one to enjoy using again and again.
Available in funky neons or cool metallics, you'll be able to design a bag in line with your giftees own sense of style.
The kit is suitable for children aged 9 and over, teenagers and adults.

13. Plant powered skincare kits

Kind to our skin & planet! Learn about the natural ingredients in this kit to create a revitalising skin mask or body scrub as a special and unique Christmas present.

14. Make Your Own Lip Balm Kit

This fun lip balm making craft kit contains all the ingredients you'll need to make your very own shea butter lip balm. Available in a choice of 4 flavours: Bubblegum, Peppermint, Gin & Tonic and Strawberry.
It's great fun, easy to use and contains enough ingredients for you to make 5 tins of balm which you can then gift to your friends and family. The perfect, thoughtful stocking filler.

15. Personalised Bunting Kit

Discover how to make 2 meters of beautifully personalised bunting. This makes a fantastic Christmas present for a childs bedroom.

Our bunting making kits include all the materials for you to craft the day away. Containing an assortment of bunting pennants, buttons, bows, embroidery floss, decorative fabrics, threads, etc, all carefully handpicked to co-ordinate. Along with easy to follow illustrated instructions to create personalised bunting triangles, embellished with decorative flourishes, spelling out a name or date or perhaps customised with special textile techniques.

16. Flower Crown Making Kit

Who doesn't love a flower crown? Create beautiful faux flower crowns with these fun DIY craft kits that can be worn again and again. This makes a lovely Christmas present for creative kids that you can enjoy making together.
17. Woven Necklace Kit
Each of these eco friendly craft kits contains enough recycled cotton cord to make three macrame necklaces in your choice of colours. That's one for you and two you can give as gifts!

18. Egg Cup Painting Kit

Design and paint a unique pair of ceramic egg cups to brighten up breakfast time!

Personalise with a name or initial, paint a fun colourful design or add modern contemporary patterns to match their taste - the options are endless! This makes a really sweet Christmas gift to give to someone who has recently moved house.

The high quality ceramic paints will air dry and just need baking in oven to set, meaning they can be ready for dipping soldiers in no time at all!

19. Make Your Own Popcorn

You can pop, sprinkle and shake your popcorn to perfection, just how they like it!
Pop your tasty creation in an airtight jar and take it round with a Christmas film to watch together. Flavours include Salt & Vinegar, Chocolate, Toffee, Sweet Chilli and Maple Bacon.

20. Make your own Bird Box

This simple to do kit is a great way to provide a home for your local wildlife. Designed to be easy to assemble, yet makes a strong and sturdy bird box, this can be easily put together in 10-15 minutes.

All fixings are supplied so all you'll need is a screwdriver and hammer. Once you've build your bird box you could decorate it however you like to give as a Christmas gift to someone you love.

21. Large Flower Press

Perfect for nature lovers to capture the fleeting beauty of nature, preserving flowers to use for floral art and craft projects. You could press flowers to create a special piece for someone close to you. Perhaps their favourite flowers in a frame as a stylish addition to their home or simple but beautiful decoration to add to all your gifts this Christmas.

22. Cook for your favourite people

The gift of food is always a welcome one, why not invite your nearest and dearest round to yours for a Christmas Eve feast! Choose from Biryani, Chateaubriand, Paella, Linguine, Chicken Cacciatora or Beef/Chicken/Mushroom Wellington. They'll be really impressed with your culinary skills and you'll enjoy your evening knowing that you've got step-by-step instructions and all the ingredients needed.
We love to see our customers getting creative! Share with us your genius self made Christmas presents on all socials. @needigifts.
---